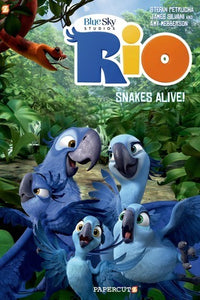 Rio #1: Snakes Alive! (Used Paperback) - Stefan Petrucha
Blu and Jewel, the last known surviving Blue Spix Macaws, are having a great time raising their children in the safety of the Blu Bird Sanctuary, but there may be trouble in paradise! When Blu overhears Tulio and Linda talking about their money troubles, Blu takes it upon himself to save the sanctuary and his friends' livelihood — if only he could think of a way. When bulldog Luiz tells Blu about a legendary elixir hidden somewhere in the jungle, Blu thinks that could be the answer. That is, of course, if cockatoo Nigel doesn't get there first, and if they can make it past the villainous snaky Ssssssalbatore in one piece!

The next chapter in the epic story of Rio begins right here!
0719MWL
---