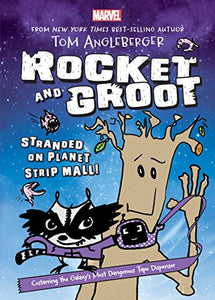 Rocket and Groot: Stranded on Planet Strip Mall! (Used Paperback) - Tom Angleberger
After battling deadly space piranhas in Sector 7 of the Cosmos, Rocket and Groot crash-land on a planet made entirely of strip malls!
There are dry cleaners, nail salons, 99 cent stores, 98 cent stores, chain restaurants,and maniacal robots bent on customer service. Sounds like paradise, right?Wrong. It doesn't take long for Rocket to discover that the place is infested with raccoon-eating toilets! That's right. KILLER toilets! Badly injured from the piranha fight, the totally-butt-kicking-duo have no ship, no guns, no money, no food, no water . . . BUT . . they have each other. Oh, and Veronica,the totally awesome super-intelligent tape dispenser!! (She told us to say that).
Told through the eyes of Rocket, STRANDED ON PLANET STRIP MALL features simple black-and-white drawings throughout, as Rocket uses a space stylus to express his adventures, visually, while Veronica, their space recording companion, lays out the adventure in text! Granted, the drawings are done by a space Raccoon with a bad attitude, but what would happen if he gave Groot a shot to draw an adventure they had been on? What would we get? We'll find out in the final chapter!
0806JA
---