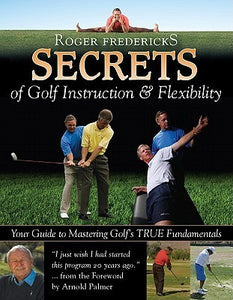 Roger Fredericks Secrets of Golf Instruction & Flexibility (Used Paperback) - Roger Fredericks
In this revolutionary book, author Roger Fredericks explores both the worlds of golf instruction and flexibility and explains precisely why the majority of golf instruction is ineffective, and why various golf instruction methodologies are not conducive to certain individual body types. Not just a golf instruction book and not just a flexibility book, Fredericks teaches the readers how to combine the two and in effect improve your golf swing once and for all. Roger Fredericks a leading golf instructor, pioneer in the world of golf fitness, and author of the smash hit Infomercial (more than 100,000 copies sold) and DVD, Roger Fredericks Reveals Secrets to Golf Swing Flexibility takes readers on a step-by-step instructional journey, explaining why golfers have a difficult time improving and what one can do about it. Using a common sense approach Fredericks reveals on the pages of Secrets of Golf Instruction & Flexibility the true fundamentals of the golf swing, how your golf swing mechanics are merely symptoms of how your body functions, and most importantly what golfers can do to maximize their golf instruction AND their flexibility.
Condition: Used book in Very Good condition, price sticker on back cover.
---