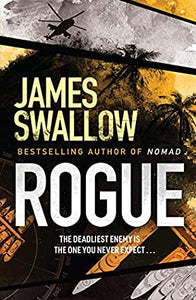 Rogue - James Swallow
Paperback
The explosive new thriller from the master of the modern espionage thriller and Sunday Times bestseller James Swallow - available now to pre-order in hardback, eBook and audiobook.
___________________

In modern espionage, every action has a reaction. One wrong move could sink an entire region into turmoil - even war.

Ex-MI6 operative Marc Dane understands this better than anyone. Dedicating his life to protecting the country means he's collected enemies, and a lot of them.

But for those hellbent on bringing the West to its knees, each failed plot has one thing in common: The Rubicon Group, the elite private intelligence agency, and Dane's employer. Destroy Rubicon, and the world order falls with it.

With the clock ticking, Dane, along with sniper partner Lucy Keyes, must unpick a monstrous and deadly conspiracy that stretches from the marinas of Monaco to the mountains of Mozambique - one that threatens not only Rubicon, but ultimately the lives of millions of innocent civilians. And time is fast running out . . .

Dark secrets of the past, a decades-long quest for revenge, and a brutal conspiracy of lies all collide in ROGUE - the explosive new novel by the bestselling author of Nomad and Exile.
1125ML
---