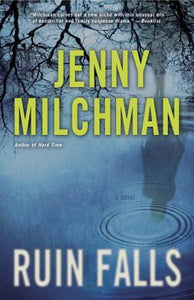 Ruin Falls - Jenny Milchman
In a suspenseful follow-up to her critically acclaimed Cover of Snow, Jenny Milchman ratchets up the tension with this edge-of-your-seat story of a mother determined to find her missing children.
 
Liz Daniels has every reason to be happy about setting off on a rare family vacation, leaving behind her remote home in the Adirondack Mountains for a while. Instead, she feels uneasy. Her children, eight-year-old Reid and six-year-old Ally, have met their paternal grandparents only a handful of times. But Liz's husband, Paul, has decided that, despite a strained relationship with his mother and father, they should visit the farm in western New York where he spent his childhood.
 
On their way to the farm, the family stops at a hotel for the night. In the morning, when Liz goes to check on her sleeping children, all her anxiety comes roaring back: Ally and Reed are nowhere to be found. Blind panic slides into ice-cold terror as the hours tick by without anyone finding a trace of the kids. Soon, Paul and Liz are being interviewed by police, an Amber Alert is issued, and detectives are called in.
 
Frantic worry and helplessness threaten to overtake Liz's mind—but in a sudden, gut-wrenching instant she realizes that it was no stranger who slipped into the hotel room that night. Someone she trusted completely has betrayed her. Though she knows that Ally and Reid are safe, Liz will stop at nothing to find them and get them back. From her guarded in-laws' unwelcoming farmhouse to the deep woods of her own hometown, Liz follows the threads of a terrible secret to uncover a hidden world created from dreams and haunted by nightmares.

Paperback
0928ML
---