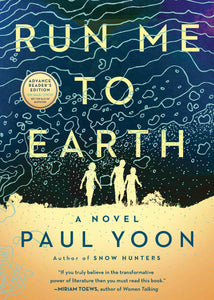 Run Me To Earth (Used Hardcover) - Paul Yoon
From award-winning author Paul Yoon comes a beautiful, aching novel about three kids orphaned in 1960s Laos—and how their destinies are entwined across decades, anointed by Hernan Diaz as "one of those rare novels that stays with us to become a standard with which we measure other books."

Alisak, Prany, and Noi—three orphans united by devastating loss—must do what is necessary to survive the perilous landscape of 1960s Laos. When they take shelter in a bombed out field hospital, they meet Vang, a doctor dedicated to helping the wounded at all costs. Soon the teens are serving as motorcycle couriers, delicately navigating their bikes across the fields filled with unexploded bombs, beneath the indiscriminate barrage from the sky.

In a world where the landscape and the roads have turned into an ocean of bombs, we follow their grueling days of rescuing civilians and searching for medical supplies, until Vang secures their evacuation on the last helicopters leaving the country. It's a move with irrevocable consequences—and sets them on disparate and treacherous paths across the world.

Spanning decades and magically weaving together storylines laced with beauty and cruelty, Paul Yoon crafts a gorgeous story that is a breathtaking historical feat and a fierce study of the powers of hope, perseverance, and grace.
0627ML
---