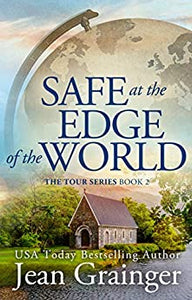 Safe at the Edge of the World (Used Paperback) - Jean Grainger
A tranquil Irish vacation, music, scenery, food... but someone on this tour has a secret he's desperate to keep concealed.

Sequel to the #1 Bestseller, The Tour.

When a shadowy couple turn up on Conor O'Shea's grand tour of Ireland, the tranquility of Ireland's landscape acts as a shelter against the stormy reality of the life they left behind.
On the run from a notorious mob boss, this mysterious couple flees the U.S. in search of sanctuary on the shores of the Emerald Isle, hoping to blend in with the tourists. In their wake lies a mafia family's secrets and a scarred priest torn between his duty to the cloth and to the truth.
Intriguing and uniquely consuming, Father Declan Sullivan's tale of destiny and duty lies at the feet of those he has betrayed. Can distance and deliverance save the innocent in their desperate pursuit for peace, or will evil catch up to them all?

In Safe at the Edge of the World, author Jean Grainger captures the soothing beauty of Ireland in the lives of those fleeing a criminal bent on revenge.
0613SR
---