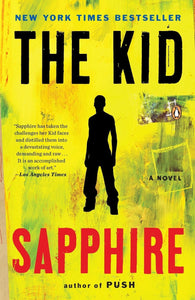 The Kid - Sapphire
Fifteen years after the publication of Push, one year after the Academy Award-winning film adaptation, Sapphire gives voice to Precious's son, Abdul.

In The Kid bestselling author Sapphire tells the electrifying story of Abdul Jones, the son of Push's unforgettable heroine, Precious.

A story of body and spirit, rooted in the hungers of flesh and of the soul, The Kid brings us deep into the interior life of Abdul Jones. We meet him at age nine, on the day of his mother's funeral. Left alone to navigate a world in which love and hate sometimes hideously masquerade, forced to confront unspeakable violence, his history, and the dark corners of his own heart, Abdul claws his way toward adulthood and toward an identity he can stand behind.

In a generational story that moves with the speed of thought from a Mississippi dirt farm to Harlem in its heyday; from a troubled Catholic orphanage to downtown artist's lofts, The Kid tells of a twenty- first-century young man's fight to find a way toward the future. A testament to the ferocity of the human spirit and the deep nourishing power of love and of art, The Kid chronicles a young man about to take flight. In the intimate, terrifying, and deeply alive story of Abdul's journey, we are witness to an artist's birth by fire. 
Hardcover
0609ML
---