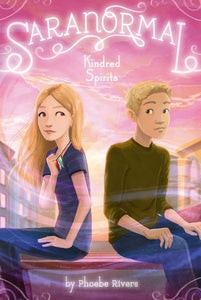 Saranormal Kindred Spirits (Used Book) - Phoebe Rivers
Sara realizes she might not the only one with amazing paranormal powers.

Sara is used to having visions, but she has no idea why she keeps seeing a cute blonde she's dubbed "Mystery Boy"…and then she meets him. Mason isn't all that friendly, yet Sara feels drawn to him, and the two begin spending more and more time together. Sara isn't sure she even likes him, but she can't stop thinking about him. And the strangest things seem to happen whenever the two are together...

Meanwhile, Sara begins to suspect that she has developed another power: telekenesis. Lady Azura insists she is mistaken, but the more research Sara does, the surer she is that she—or someone close to her—has the rare and awesome ability to move objects with the mind. The question is, who is it?
Paperback
0428DO
---