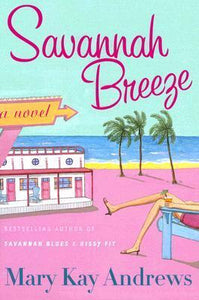 Savannah Breeze (Used Book) - Mary Kay Andrews
Southern belle BeBe Loudermilk has lost all her worldly possessions, thanks to a brief but disastrous relationship with the gorgeous Reddy, an "investment counselor" who turns out to be a con man. All that's left is a ramshackle 1950s motel on Tybee Island—an eccentric beach town that calls itself a drinking village with a fishing problem.

Breeze Inn is a place where the very classy BeBe wouldn't normally be caught dead, but with no alternative, she moves into the manager's unit, vowing to make magic out of mud. The work is grueling, especially dealing with the bad-tempered caretaker, a fishing captain named Harry who's trying to earn enough dough to get his boat out of hock. With the help of Harry and her junking friend Weezie, BeBe soon has the motel spiffed up and attracting paying guests.

Then there's a sighting of Reddy in Fort Lauderdale, and BeBe decides to go after him. She puts together a posse, and with the irrepressible Granddaddy Loudermilk snoring in the backseat of the Buick, heads south. The plan is to carry out a sting that may be just a little bit outside the law but that, with any luck at all, will retrieve BeBe's fortune and put the dastardly Reddy in jail, where he belongs. And maybe Harry, who's looking more hunky every day, will finally get his boat back.
Hardcover
---