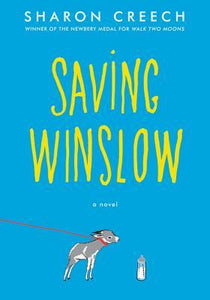 Saving Winslow (Used Paperback) - Sharon Creech
About a young boy who befriends an ailing newborn donkey and nurses him back to health.

Louie doesn't have the best luck when it comes to nurturing small creatures. So when his father brings home a sickly newborn mini donkey, he's determined to save him. He names him Winslow. Taking care of him helps Louie feel closer to his brother, Gus, who is far, far away in the army.

Everyone worries that Winslow won't survive, especially Louie's quirky new friend, Nora, who has experienced loss of her own. But as Louie's bond with Winslow grows, surprising and life-altering events prove that this fragile donkey is stronger than anyone could have imagined.
0629CM

---