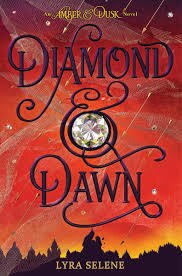 Diamond & Dawn (Used Hardcover) - Lyra Selene
Mirage, triumphant in her coup of the Amber Empire, returns to the palais prepared to take her place as Empress. With the support of her friends, Luca and Lullaby, and a tentative, blossoming romance with Sunder, Mirage is on the cusp of taking hold of everything she has wanted.
However, her place in the sun is not as sure as she expected; nor is it quite as bright as she imagined.
When the Empress Severine's body is recovered from the battle, she is not dead after all -- in a coma, she still represents a threat to Mirage's newfound power. Worse, a distant cousin, Gavin d'Ars, Duc de Douane, appears in court to challenge both women with his blood claim, and to propose a series of trials to determine the most deserving heir. In Mirage's fight to defend her vision for the empire, she begins to splinter all of her networks. Will the battle for control leave anyone untainted?
Amber & Dusk, #2
0804LO
---