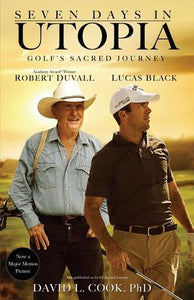 Seven Days in Utopia: Golf's Sacred Journey (Used Book) - David Lamar Cook , Tom Lehman (Foreword)
Golfers and non-golfers alike will be moved by this powerful story of transformation revealing the secrets to success in life beyond success in our game or work.

Luke Chisolm is a talented young golfer set on making the pro tour. But when his first big shot turns into a very public disaster, he escapes the pressures of the game and finds himself unexpectedly stranded in Utopia, Texas. There, he meets Johnny Crawford, an eccentric rancher with a passion for teaching truth, whose faith forces Luke to question not only his past choices, but his direction for the future.

Written by author and performance psychologist Dr. David Cook--who has worked with NBA World Champions, National Collegiate Champions, PGA Tour Champions, Olympians, and many Fortune 500 companies--this remarkable and encouraging story reminds us to get our game, and our life, back on course.

Paperback
---