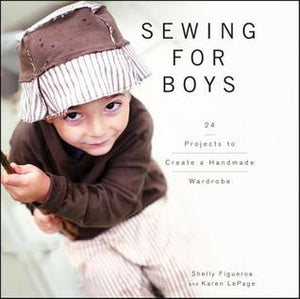 Sewing for Boys: 24 Projects to Create a Handmade Wardrobe - Shelly Figueroa & Karen LePage
25 sewing projects for boys, ages newborn to 8-years-old!
From sporty to dapper to whimsical, Sewing For Boys: 24 Sewing Projects to Create a Handmade Wardrobe shows you how to create an entire handmade wardrobe for all types of boys, ages newborn to 8-years-old. The patterns span all seasons and include a selection of specialty items for playtime, art, and "on the go" accessories. You'll get instruction and guidance on numerous techniques to add longevity to each pattern; not just for the boy who grows too quickly but also for his little brother or cousin to wear and cherish later.

In Sewing For Boys, moms, grandmothers, and other eager sewers will find a full collection of mix-and-match patterns to fully clothe their little men in style, all packaged with gorgeous photography and presented in the style of coveted Japanese pattern books. The garments and accessories you'll sew are comfortable, durable, and completely unique. From a short sleeve raglan tee and suspender shorts to a just-like-dad flannel robe and slippers, you'll find 24 sewing projects to keep your little guy dressed with style year-round.
Unique focus on sewing for boys.
A variety of projects; something for all levels of sewing experience
Tested, verified patterns, with relevant illustrated instructions created by the authors
Perfect for beginning to advanced seamstresses with a young boy in their lives, Sewing For Boys is a pattern collection you'll to turn to time and again.
Hardcover
1118SR
---