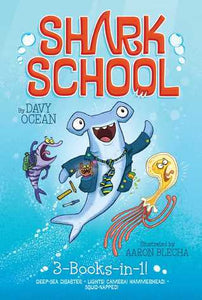 Shark School 3 Books-in 1! (Used Paperback) - Davy Ocean
The first three books of the Shark School series are now available in a fin-tastic paperback edition!

In Deep-Sea Disaster, a class trip to a famous shipwreck almost ends in disaster for Harry Hammer and his pals. In Lights! Camera! Hammerhead!, humans arrive at Shark Point to film an underwater documentary and Harry wants a starring role. But his dreams start turning to nightmares when arch rival Rick Reef also wants a part in the movie! And in Squid-napped!, Harry leaves Shark Point for faraway waters—and comes face to face with a ravenous giant squid who hasn't had his lunch yet!
0828DO
---