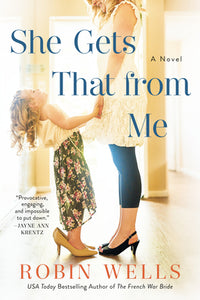 She Gets That From Me - Robin Wells
Quinn never expected that her best friend's courageous decision to be a single mother by choice would end up transforming her own life in this poignant novel from USA Today bestselling author Robin Wells.

When Quinn Langston's best friend unexpectedly passes away, Quinn embraces Brooke's three-year-old daughter Lily and elderly grandmother Margaret as the family she's always wanted. She'll do whatever it takes to help them heal, but she didn't anticipate Lily's biological father would be part of the plan. Margaret is old-fashioned, though, and she has no compunction about finding a way to reach Lily's dad, a sperm donor. After all, he's a blood relative, and she believes family should raise family.

Zack Bradley doesn't know what to expect when he finds out he has a child. Sperm donors don't usually get to meet their...well, he's not sure what to call Lily yet, but he's certain he wants to get to know her. There's just one of problem: he's about to move to Seattle with his wife, Jessica, who's undergone multiple infertility treatments, desperately wants a family of her own and can't stand the idea of Zack playing daddy to another woman's child.

Together, they'll all learn that the human heart is infinitely expandable and there are many different roads to family.
Paperback
1005ML
---