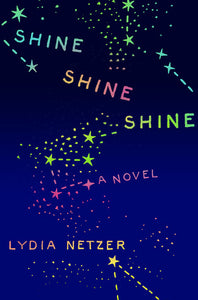 Shine Shine Shine (Used Book) - Lydia Netzer
Sunny Mann has masterminded a life for herself and her family in a quiet Virginia town. Her house and her friends are picture-perfect. Even her genius husband, Maxon, has been trained to pass for normal. But when a fender bender on an average day sends her coiffed blonde wig sailing out the window, her secret is exposed. Not only is she bald, Sunny is nothing like the Stepford wife she's trying to be. As her facade begins to unravel, we discover the singular world of Sunny, an everywoman searching for the perfect life, and Maxon, an astronaut on his way to colonize the moon.
Theirs is a wondrous, strange relationship formed of dark secrets, decades-old murders and the urgent desire for connection. As children, the bald, temperamental Sunny and the neglected savant Maxon found an unlikely friendship no one else could understand. She taught him to feel -- helped him translate his intelligence for numbers into a language of emotion. He saw her spirit where others saw only a freak. As they grew into adults, their profound understanding blossomed into love and marriage.
But with motherhood comes a craving for normalcy that begins to strangle Sunny's marriage and family. As Sunny and Maxon are on the brink of destruction, at each other's throats with blame and fear of how they've lost their way, Maxon departs for the moon, where he's charged with programming the robots that will build the fledgling colony. Just as the car accident jars Sunny out of her wig and into an awareness of what she really needs, an accident involving Maxon's rocket threatens everything they've built, revealing the things they've kept hidden. And nothing will ever be the same.

Hardcover
0615LO
---