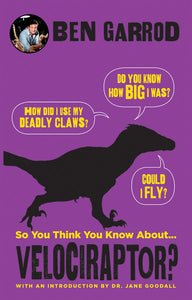 So You Think You Know About... Velociraptor? (Used Paperback) - Ben Garrod
Packed full of dinosaur discoveries, battles, adventures, fascinating facts, quizzes and a helpful glossary along with cartoon illustrations and paleo art, these nonfiction titles read like novels and are just as engrossing.

Cool facts you might not know about dinosaurs:
Not all dinosaurs are dead. Chickens are dinosaurs.
Not all dinosaurs roared. Some dinosaurs cooed like pigeons or honked like geese.
Monkey puzzle trees developed their spiny leaves to avoid becoming dino brunch and still have them 66 million years later.
Dinosaurs had short arms.
Many dinosaurs had brightly colored feathers.
Velociraptor probably had lips.

Discover dinosaurs, new science, how to find a fossil and ask an expert, with Dr. Ben Garrod.
0625MWL
---