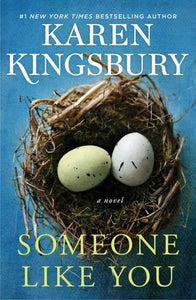 Someone Like You (Used Book) - Karen Kingsbury
Maddie West is shaken to the core when she finds out that everything she believed about her life was a lie. Her parents had always planned to tell her the truth about her past: that she was adopted as an embryo. But somehow the right moment never happened. Now, the total stranger who confronts Maddie with the truth tells her something else that rocks her world—Maddie had a sister she never knew about. Feeling betrayed, angry, and confused, Maddie leaves her new job and fiancé, rejects her family's requests for forgiveness, and moves to Portland, Oregon, to find out who she really is.

Dawson Gage's life is destroyed when London Quinn, the only girl he had ever loved, is killed. In the hospital waiting room, London's mother reveals to Dawson that London might have had a sibling—the frozen embryo she and her husband donated decades ago. When Dawson invites Maddie to Portland to connect with her long-lost relatives, the Quinns, her biological parents, welcome her into their lives. Maddie is intrigued by their memories of London, who was so much like her. Is this the family and the life she was really meant to have?
Hardcover
---