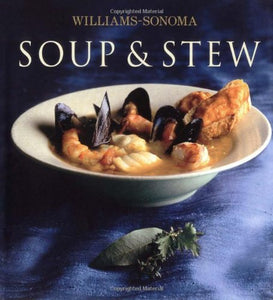 Soup & Stew (Used Hardcover) - Williams-Sonoma
Making a long-simmered stew or heartty soup is rewarding for every cook, and countless combinations of flavor are possible. Whether you crawe a bowl of rich lamb stew or spicy bean chili, a cup of creamy fish chowder or simple chicken and rice soup, these warming dishes always satisfy.

William-Sonoma Collection Soup & Stew presents more than 40 easy-to-follow recipes, including both classic preparations and innovative ideas for the busy cook. In these pages, you'll find tempting options for every occasion, from first-course soups and light puréees to meaty braises and comforting stews. This beautifully photographed, full color recipe collection will become an essential addition to your kitchen bookshelf.
0918RT
---