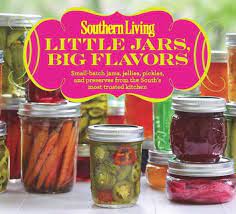 Southern Living Little Jars, Big Flavors: Small-batch James, Jellies, Pickles, And Preserves From The South's Most Trusted Kitchen (Used Paperback) - Virginia Willis
With Little Jars, Big Smiles, Southern Living puts its unique spin on the age-old art of home canning, with a casual ease that will engage new and old lovers of homemade preserves. Rustic photography and small-batch recipes lessen the intimidation factor for newbies, while modern flavor twists and canning technique updates pique interest among cooks who already know the perks of preserving: capturing the best produce, knowing exactly what's in the jar, and creating unbeatable flavors.

Readers will learn how to safely pickle and can, filling the pantry with little jars that bring big smiles all year round. Features include: 100+ reliable canning recipes - delicious and interesting, too! - from the South's most trusted kitchen, all tested and updated to address modern food safety concerns Emphasis on small-batch recipes, so you don't get 20 jars when you only need 4, and you don't have to destroy your kitchen to make a pint of pickles How to can - helpful Q&As that reveal secrets to canning success A "Puttin' Up Party" Planner for hosting a pickle-and-jam session with friends and family Ways to use those little jars - recipes that utilize the items you've canned: tarts filled with or brushed with your Ginger-Apricot preserves, Bloody Mary drinks with okra you pickled, salads and shrubs with your very own Raspberry Vinegar The best jars for sharing and clever ideas for labeling and packing gift jars.
0827NVB
---