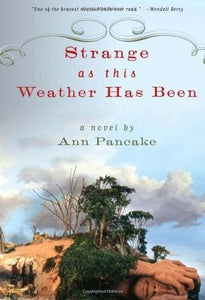 Strange as This Weather Has Been (Used Paperback) - Ann Pancake
Set in present day West Virginia, Ann Pancake's debut novel, 
Strange As This Weather Has Been
, tells the story of a coal mining family— a couple and their four children— living through the latest mining boom and dealing with the mountaintop removal and strip mining that is ruining what is left of their mountain life. As the mine turns the mountains to slag and wastewater, workers struggle with layoffs and children find adventure in the blasted moonscape craters.
Strange As This Weather Has Been
 follows several members of the family, with a particular focus on fifteen-year-old Bant and her mother, Lace. Working at a "scab" motel, Bant becomes involved with a young miner while her mother contemplates joining the fight against the mining companies. As domestic conflicts escalate at home, the children are pushed more and more outside among junk from the floods and felled trees in the hollows— the only nature they have ever known. But Bant has other memories and is as curious and strong-willed as her mother, and ultimately comes to discover the very real threat of destruction that looms as much in the landscape as it does at home.
---