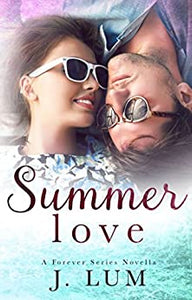 Summer Love (Forever #0.5) (Used Book) - J. Lum
TOBY

Spending the entire summer with my father wasn't in my plans. I hated him. I was angry and resentful, and it made me feel out of control.

Until I met her.

Casey is carefree. She lives life to the fullest, without regrets, and to a guy like me, she was hope. We only had the summer, and I knew better than to get wrapped up with her, but I couldn't help it.

And now? Now, I don't know how to let her go.

CASEY

I'd never been in love. At fifteen, my life was filled with books and family expectations. Love was not something I had time for.

And then, he saved me.

Toby is a boy from California, so you would think he'd be easygoing, but he isn't. He's the definition of self-control; everything has to be "just so."

But when we're together, living each day with reckless abandon, I realize that life is so much more than fairytales within the pages.

I'm pretty sure he's my soulmate. But what good can possibly come from falling so hard when you're this young? How can this ever work?

A promise. That's all we have to hold on to. One. Simple. Promise.
Paperback
1018CR
---