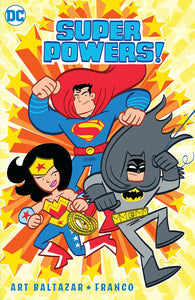 Super Powers! (Used Paperback) - Art Baltazar
Art Baltazar and Franco Aureliani, the Eisner Award-winning creative team behind all-ages titles TINY TITANS and SUPERMAN FAMILY ADVENTURES, are back with their most epic and hilarious story yet!

Batman's gone missing, and it's up to his friends Superman and Wonder Woman to save him. But there's more going on than it first appears...something has united the greatest threats in the universe, including Darkseid, Lex Luthor and the entire Legion of Doom! Could it have something to do with Superman's mom and dad back on New Krypton? And just who is this new kid who's suddenly hanging around?

They'll need the help of the whole Justice League to figure it out and save the day. But if there's one thing a superhero can always count on, it's his Super Friends!
0912BJS
---