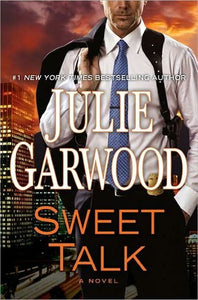 Sweet Talk (Used Book) - Julie Garwood
Attorney and IRS agent Olivia Mackenzie is the kind of tough, wise-cracking, powerful woman fans expect from a Garwood protagonist—but this time she has outdone herself. Olivia is not just any woman, she is every woman; flawed in the familiar ways so many of us are.

On the trail of an elaborate Ponzi scheme, one that threatens to ruin the lives of naïve and unsuspecting victims, Olivia suddenly finds her own life is in danger after she asks questions of the wrong people. She is accustomed to fighting for the underdog, but being vulnerable herself is a very different story. Smart enough to know when enough is enough, Olivia calls for reinforcements.

When she meets FBI Agent Grayson Kincaid there is an immediate and obvious attraction, palpable on both sides. Together they make an excellent team to fight corruption but Olivia is also fighting the immediate and intense attraction she feels for Agent Kincaid, and that may be a battle she is bound to lose.
Hardcover
0503SR

---