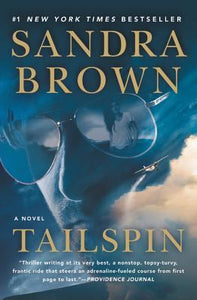 Tailspin (Used Book) - Sandra Brown
Fearless pilot Rye Mallett is on a dangerous mission with a mysterious woman in another suspenseful, sexy thriller from #1 New York Times and USA Today bestselling author Sandra Brown.

Rye Mallett, a fearless "freight dog" pilot, will fly in the foulest weather, day or night, and deliver the goods safely to their destination. So when he's asked to fly into a completely fogbound northern Georgia town and deliver a mysterious black box to a Dr. Lambert,, he doesn't ask questions.

More trouble than inclement weather awaits him. A sabotage attempt on his plane that causes him to crash land, and then he's greeted by Dr. Brynn O'Neal, who claims she was sent for the box in Dr. Lambert's stead. Despite Rye's "no-involvement" policy, he's irresistibly drawn to the intrigue surrounding his cargo . . . and to the mysterious and alluring Brynn.

Soon Rye and Brynn are in a treacherous forty-eight-hour race to deliver the box. With law enforcement officials to hired thugs hot on their heels, they must learn to trust each other so they can protect their valuable cargo from those who would kill for it.
Paperback
1018SR

---