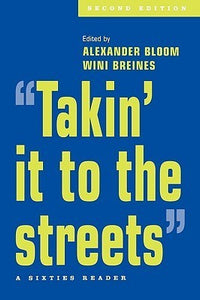 Takin' It to the Streets: A Sixties Reader (Used Book) - Alexander Bloom
The second edition of "Takin' it to the streets" revises the comprehensive collection of primary documents of the 1960s that has become the leading reader on the era. Adopted nationwide, this anthology brings together representative writings, many of which have been unavailable for years or
have never been reprinted. Drawn from mainstream sources, little-known sixties periodicals, pamphlets, public speeches, and personal voices, the selections range from the Port Huron Statement and the NOW Bill of Rights to speeches by Malcolm X, Richard Nixon, and Ronald Reagan, to private letters
from civil rights workers and Vietnam soldiers.
Introductions and headnotes by the editors highlight the importance of particular documents, relating them to each other and placing them within the broader context of the decade. Particular attention is paid to civil rights, Black Power, the counterculture, the women's movement, anti-war
activity, and gay and lesbian struggles, as well as the conservative current that ran counter to more typical sixties movements. For this revised edition, the editors have added nearly thirty selections, including new readings on religion, the drug culture, the sexual revolution, gay rights,
conservatism, and the Vietnam War experience. Covering an extremely popular period of history, "Takin' it to the streets" remains the most accessible and authoritative reader on an extraordinary decade, one unlike America had seen before or has experienced since.
Paperback
---