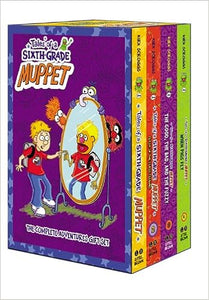 Tales of a Sixth-Grade Muppet The Complete Adventures Gift Set in Box (Used Hardcover) - Kirk Scroggs
On a scale of one to ten, sixth-grader Danvers Blickensderfer's life is a solid minus two. But he really hits rock bottom when he auditions for the local talent show and his death-defying hula-hooping-ninja tribute to The Great Gonzo is beat out by the world's most obnoxious middle school boy band, Emo Shun. With his daredevil dreams dashed, Danvers goes to bed... and wakes up feeling a little fuzzy-literally! He's turned into a Muppet!

Fortunately, there's an internship open at the Muppet Theater and Danvers has a chance to meet his stunt-lovin' hero, Gonzo! All aboard The Electric Mayhem bus as this misfit makes good and joins the zaniest crew ever: the Muppets! Read all four of Danvers' adventures in this complete collection!
Condition:  Like new
0731JA
---