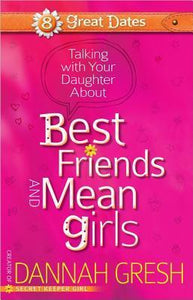 Talking with Your Daughter About Best Friends and Mean Girls (Used Book) - Dannah Gresh
By spending quality time with her daughter, a Christian mom can protect her against peer pressure to mature too quickly and guide her toward true, life-enhancing friendships.

Dannah Gresh, bestselling author of Six Ways to Keep the "Little" in Your Girl and creator of the Secret Keeper Girl events, has developed fun and strategic "dating" ideas to help moms invest time to deeply interact with their tween girls about friends. Moms and Daughters Talk About True Friendship tackles questions such as


How can I have and be a friend? Just what is real friendship? What or who is the source of friendship? What do I do when I face a mean girl? How should I approach friendship with boys?
Moms (and dads) will be delighted with the biblical grounding and godly guidance that will help them build deeper connections with their daughters and protect them in their friendships.
Paperback
---