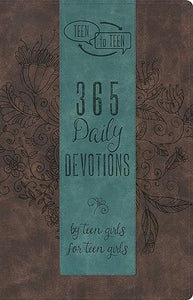 Teen to Teen: 365 Daily Devotions by Teen Girls for Teen Girls (Used Book) - Patti M. Hummel
What more encouraging way to gain perspective than by talking to someone who has been there, especially when that someone is one of your peers? Written specifically for teens by teens, this unique 365-day devotional offers readers personal experiences that are relatable and heartfelt.

Bullying, substance abuse, sex, divorce, peer pressure—today's teens are facing some tremendously difficult issues on their path to adulthood. These 365 devotions will offer them encouragement and been-there-faced-that wisdom to show teens that there is only one answer to life's problems—God. Through the stories of more than 100 teen authors, readers will see how God can work in their lives too if they only let Him in. Teens will love learning that they are not alone in their challenges and that God is with them each day of the year. 
Paperback
---