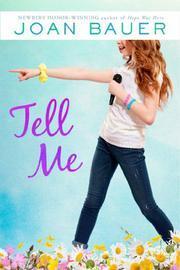 Tell Me (Used Paperback) - Joan Bauer
The unofficial town motto is "Nothing bad ever happens in Rosemont" where  twelve-year-old Anna has come to stay with her grandmother, Mim, hoping to forget her worries about her parents' troubled marriage.  She'll be busy with the town's annual Flower Festival, a celebration with floats and bands that requires weeks of preparations.

But before long, Anna finds herself involved in a very big problem. When she observes a girl her own age who seems to be being held against her will, Anna can't forget the girl's frightened eyes and she is determined to investigate. "When you see something, say something" she's been told—but what good does it do to speak if no one will listen? Luckily, a take-charge girl like Anna is not going to give up.

Told with Joan Bauer's trademark mixture of humor and heart, Tell Me will enthrall her many fans and win her new ones.
0828DO
---