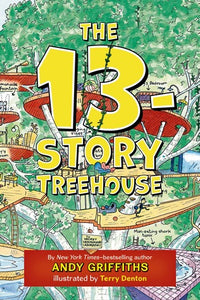 The 13-Story Treehouse (Used Hardcover) - Andy Griffiths
Who wouldn't want to live in a treehouse? Especially a 13-story treehouse that has a bowling alley, a see-through swimming pool, a tank full of sharks, a library full of comics, a secret underground laboratory, a games room, self-making beds, vines you can swing on, a vegetable vaporizer and a marshmallow machine that follows you around and automatically shoots your favorite flavored marshmallows into your mouth whenever it discerns you're hungry.

Two new characters – Andy and Terry – live here, make books together, and have a series of completely nutty adventures. Because: ANYTHING can happen in a 13-story treehouse.
0731JA
---