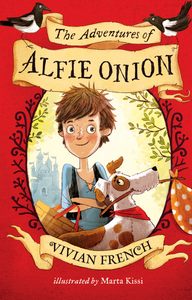 The Adventures of Alfie Onion (Used Paperback) - Vivian French
Fresh new take on the fairy tale genre - funny, uplifting and unconventional!

In this stand-alone comic adventure for younger readers, Alfie Onion has just set off on a great adventure … but only to carry his brother's luggage. It's his elder brother, Magnifico Onion, who's destined to win their family a Happily Ever After. But when it turns out Magnifico isn't half the hero he's cracked up to be, it falls to Alfie to save the day - with a little help from his loyal dog, a talking horse, and a couple of meddling magpies.
0907DS
---