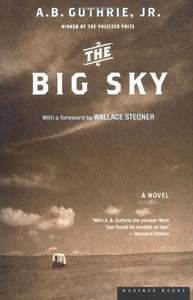 The Big Sky (Used Book) - A.B. Guthrie Jr.
A classic portrait of America's vast frontier that inspired the Western genre in fiction.

Originally published more than fifty years ago, The Big Sky is the first of A. B. Guthrie Jr.'s epic adventure novels set in the American West. Here he introduces Boone Caudill, Jim Deakins, and Dick Summers: traveling the Missouri River from St. Louis to the Rockies, these frontiersmen live as trappers, traders, guides, and explorers. The story centers on Caudill, a young Kentuckian driven by a raging hunger for life and a longing for the blue sky and brown earth of big, wild places. Caught up in the freedom and savagery of the wilderness, Caudill becomes an untamed mountain man, whom only the beautiful daughter of a Blackfoot chief dares to love.
Paperback
---