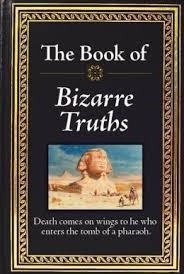 The Book of Bizarre Truths (Used Book) - Publications International
The Book of Bizarre Truths is a 704-page collection of answers to hundreds of provocative questions covering a vast range of topics, from the strange to the sublime.
Includes urban legends, old wives tales, misattributed quotes, and corrected so-called facts and trivia that have gained authenticity despite less-than-reliable sources.
Topics covered include the animal kingdom, health, origins, traditions, science, history, geography, sports, people, and food.
More than 200 questions that are answered, including:
Do cows cause global warming?
How many ants make a full meal for an anteater?
How late is fashionably late?
What s the smelliest thing on the planet?
Do woodpeckers get headaches?

The Book of Bizarre Truths is for readers who expect to be informed, entertained, and humored.
Hardcover
---