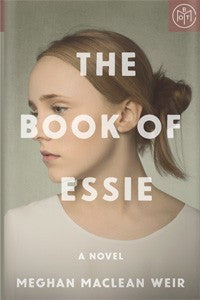 The Book of Essie (Used Hardcover) - Meghan MacLean Weir
Esther Ann Hicks--Essie--is the youngest child on Six for Hicks, a reality television phenomenon. She's grown up in the spotlight, both idolized and despised for her family's fire-and-brimstone brand of faith. When Essie's mother, Celia, discovers that Essie is pregnant, she arranges an emergency meeting with the show's producers: Do they sneak Essie out of the country for an abortion? Do they pass the child off as Celia's? Or do they try to arrange a marriage--and a ratings-blockbuster wedding?
Meanwhile, Essie is quietly pairing herself up with Roarke Richards, a senior at her school with a secret of his own to protect. As the newly formed couple attempt to sell their fabricated love story to the media--through exclusive interviews with an infamously conservative reporter named Liberty Bell--Essie finds she has questions of her own: What was the real reason for her older sister leaving home? Who can she trust with the truth about her family? And how much is she willing to sacrifice to win her own freedom?
0622LO
---