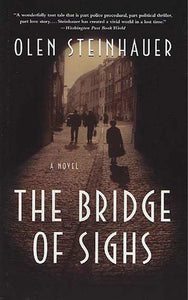 The Bridge of Sighs (The Yalta Boulevard Sequence #1) (Used Book) - Olen Steinhauer
In this auspicious literary crime debut, an inexperienced homicide detective struggles amid the lawlessness of a post-WWII Eastern European city.

It's August, 1948, three years after the Russians "liberated" this small nation from German Occupation. But the Red Army still patrols the capital's rubble-strewn streets, and the ideals of the Revolution are but memories. Twenty-two-year-old Detective Emil Brod, an eager young man who spent the war working on a fishing boat in Finland, finally gets his chance to serve his country, investigating murder for the People's Militia.

The victim in Emil's first case is a state songwriter, but the evidence seems to point toward a political motive. He would like to investigate further, but even in his naivete, he realizes that the police academy never prepared him for this peculiar post-war environment, in which his colleagues are suspicious or silent, where lawlessness and corruption are the rules of the city, and in which he's still expected to investigate a murder. He is truly on his own in this new, dangerous world.

The Bridge of Sighs launches a unique series of crime novels featuring a dynamic cast of characters in an ever-evolving landscape, the politically volatile terrain of Eastern Europe in the second half of the 20th century.

The Bridge of Sighs is a 2004 Edgar Award Nominee for Best First Novel.
Paperback
0224xBC
---