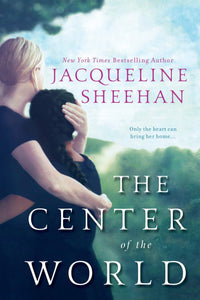 The Center of the World (Used Book) - Jacqueline Sheehan
How do you keep a secret so huge that it could devastate everyone you care about? For Kate Malloy, the answer is simple: one lie at a time. That's how she has protected her daughter for more than a dozen years, shielding her from a terrible truth. Sofia, a fifteen-year-old soccer star living in New England, believes she was born in Mexico and legally adopted by Kate. But a posthumous letter from her stepfather tells Sofia a different story—one of civil unrest and bloodshed, death-defying heroism and child-smuggling, harrowing sacrifice and desperate decisions.

Sofia's trust in her mother is shattered. At last Kate must do what she knows is right—accompany Sofia back to Guatemala, the place where Kate found horror and heartache but also the greatest joy of her life. As mother and daughter confront the damage done by years of dangerous yet necessary deceptions, they discover how much love, hope, and happiness may still remain—if they have the courage to face their past.
Paperback
0314ML

---