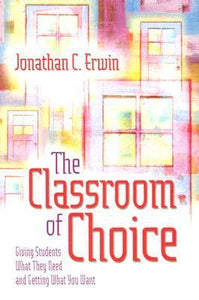 The Classroom of Choice: Giving Students What They Need and Getting What You Want (Used Book) - Jonathan C. Erwin
"Outstanding! . . . a great guide for teachers who want to succeed with every student they teach." —William Glasser Teachers everywhere face the daily challenge of engaging students whose knowledge, skills, needs, and temperaments vary greatly. How does a teacher establish a learning environment that supports the class as a whole while meeting the particular needs of individual students? Teacher Jonathan C. Erwin believes the answer lies in offering real opportunities to students rather than throwing up the obstacles inherent in traditional discipline and motivation techniques. At the heart of his approach are the five basic human needs of William Glasser's Choice survival and security, love and belonging, power through cooperation and competency, freedom, and fun. By understanding and attending to these needs, teachers can customize and manage a classroom environment where students learn to motivate and monitor themselves. Drawing on theories and practices from experts in a variety of learning techniques, Erwin explores each of the five basic needs to create nearly 200 adaptable strategies for teaching and classroom management at any grade level. Readers will find dozens of ideas for helping students make positive changes, including
* Improving their work habits,

* Connecting curriculum with individual interests,

* Opening lines of communication with teachers and other students,

* Boosting self-worth through accomplishment, and

* Supporting their classmates in cooperative work.
Erwin ties everything together in a unit guide that allows teachers to develop a classroom profile based on the needs of individual students. The guide can be used with any district planning approach or curriculum. For teachers seeking a win-win situation in managing their classrooms, The Classroom of Choice is an excellent aid in creating a learning environment in which students and teachers approach each day with energy and enthusiasm.
Paperback
---