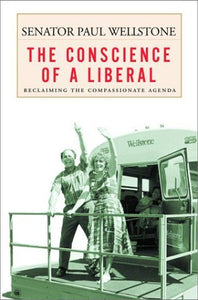 The Conscience of a Liberal: Reclaiming the Compassionate Agenda (Used Book) - Paul Wellstone
"Never separate the lives you live from the words you speak," Paul Wellstone told his students at Carleton College, where he was professor of political science.

Wellstone has lived up to his words as the most liberal man in the United States Senate, where for the past decade he has been the voice for improved health care, education, reform, and support for children. In this folksy and populist memoir, Wellstone explains why the politics of conviction are essential to democracy.

Through humor and heartfelt stories, Paul Wellstone takes readers on an unforgettable journey (in a school bus, which he used to campaign for door-to-door) from the fields and labor halls of Minnesota to the U.S. Senate, where he is frequently Republican Majority Leader Trent Lott's most vocal nemesis. Along the way, he argues passionately for progressive activism, proves why all politics is personal, and explains why those with the deepest commitment to their beliefs win.
Hardcover
---