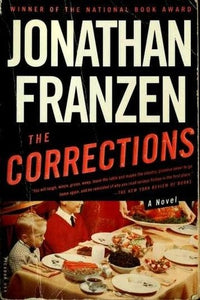 The Corrections (Used Paperback) - Jonathan Franzen
A comic, tragic epic stretching from the Midwest of the Midcentury to the Wall Street and Easter Europe of today, The Corrections brings and old-fashioned world of civic virtue and sexual inhibitions into violent collision with the era of home surveillance, hands-off parenting, do-it-yourself mental health care, and globalized greed.

After almost fifty years as a wife and mother, Enid is ready to have some fun. Unfortunately , her husband, Alfred, is losing his sanity to Parkinson's disease, and their children have long since flown the family nest to the catastrophes of thierown lives. Desperate for some pleasure to look forward to, Enid has set her heart on bringing the family together for one last Christmas at home.
Paperback
---