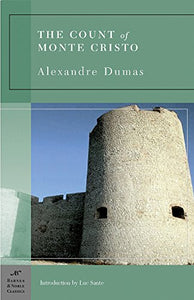 The Count of Monte Cristo (Used Book) - Alexandre Dumas
Dashing young Edmond Dantès has everything. He is engaged to a beautiful woman, is about to become the captain of a ship, and is well liked by almost everyone. But his perfect life is shattered when he is framed by a jealous rival and thrown into a dark prison cell for 14 years.

The greatest tale of betrayal, adventure, and revenge ever written, The Count of Monte Cristo continues to dazzle readers with its thrilling and memorable scenes, including Dantès's miraculous escape from prison, his amazing discovery of a vast hidden treasure, and his transformation into the mysterious and wealthy Count of Monte Cristo—a man whose astonishing thirst for vengeance is as cruel as it is just.
Paperback
---