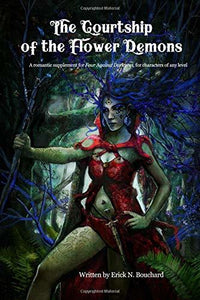 The Courtship of the Flower Demons (Used Paperback) - Erick N. Bouchard
The Blossoms' Demesne is a beautiful demon world, rich in harvesting materials for brewing potions. Here, time is immaterial and wealth is won through love, not war. But its enigmatic ruler, the fay-like Blue-Haired Queen of Flowers, hides a terrible secret... and many are the visitors who never want to come back. The Courtship of the Flower Demons is both a game supplement and a solo adventure for Four Against Darkness, Over 110 magic potions and the recipes to craft them- Complete rules for harvesting ingredients from monster organs- New the Alchemist, the Conservationist and the lustful Satyr- A system that upgrades monsters based on your highest level character- Wooing rules, a system for seduction with tactical options- Two new mechanics, Melancholy and Mesmerizing- A new, lovely but deadly pocket universe, ripe with mysteries to unearth- Six encounter tables, with foes to be either fought or seduced- New Blossoms spells, gifts and magic items- Options for revisiting your usual games - such as wooing medusas and misdirecting gremlins!
Requires only the core Four Against Darkness book but compatible with Four Against the Abyss. For characters of any level.
---