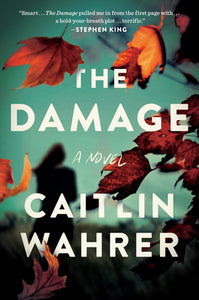 The Damage (Used Hardcover) - Caitlin Wahrer
Tony has always looked out for his younger brother, Nick. So when he's called to a hospital bed where Nick is lying battered and bruised after a violent sexual assault, his protective instincts flare, and a white-hot rage begins to build.

As a small-town New England lawyer, Tony's wife, Julia, has cases involving kids all the time. When Detective Rice gets assigned to this one, Julia feels they're in good hands. Especially because she senses that Rice, too, understands how things can quickly get complicated. Very complicated.

After all, one moment Nick was having a drink with a handsome stranger; the next, he was at the center of an investigation threatening to tear not only him, but his entire family, apart. And now his attacker, out on bail, is disputing Nick's version of what happened.

As Julia tries to help her brother-in-law, she sees Tony's desire for revenge, to fix things for Nick, getting out of control. Tony is starting to scare her. And before long, she finds herself asking: does she really know what her husband is capable of? Or of what she herself is?
0725SR
---