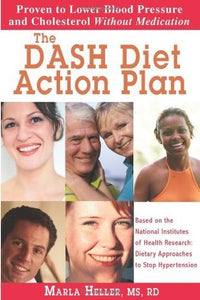 The DASH Diet Action Plan (Used Paperback) - Marla Heller
This is the user-friendly guide to the DASH diet. Proven to lower blood pressure and cholesterol without medication, it was developed in research sponsored by US National Institutes of Health, entitled, the Dietary Approaches to Stop Hypertension (DASH). Each new research study continues to prove the benefits of the DASH Diet. The DASH diet is recommended by the U.S. treatment guidelines for hypertension. The 2005 Dietary Guidelines for Americans advocate this eating plan for everyone. And the DASH diet forms the basis for the USDA MyPyramid. It is an eating plan that is rich in fruits, vegetables, low fat or nonfat dairy, is low in sodium, and includes lean meats, fish and poultry, grains, nuts and beans. The DASH diet helps lower cholesterol and supports healthy weight loss. It is flexible enough to meet the lifestyle and food preferences of most people.
However, many people have found it difficult to follow the DASH diet. This is the user-friendly book, designed to make it easy to DASH. It was written by a dietitian who is experienced in helping people make sustainable changes in how they eat. Learn how to follow the DASH diet in your real life. Accommodate DASH even when eating on-the-run. Add more vegetables into your diet, even if you think you hate vegetables. Learn how to manage salt intake. Makeover your kitchen to simplify following DASH. Lose weight with the DASH diet. The book has 28 days of meal plans (with adjustments for 1200, 1600, and 2000 calorie plans), and DASH-friendly recipes.
And this is the complete healthy lifestyle plan for hypertension. It includes the healthy weight loss and exercise that will lower blood pressure. Make your own personal DASH Diet Action Plan, with the specific steps to fit the DASH diet into your daily routine. Reach your goal to lower blood pressure or just having a healthier lifestyle. Purchasing this book is your first step in improving your health for the long run.
---