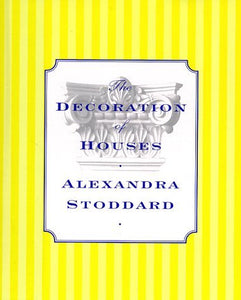 The Decoration of Houses (Used Book) - Alexandra Stoddard
In 1897, Edith Wharton and architect Ogden Codman, Jr., collaborated on The Decoration of Houses, a groundbreaking book on the art of interior design. Now Alexandra Stoddard gives us her own version of decorating houses for today's world, making the wisdom and expertise from her thirty-six years of interior design experience accessible to all individuals, regardless of their budget or the size of their home.While adhering to the classical principles espoused by Wharton and Codman, Alexandra Stoddard shows us how to see our homes as professional designers do: as an expression of our own personalities. She teaches us how to think about space, scale and proportion, color, light, and texture as she advises us on the different elements of a roomthe floor, furniture, lighting, fabric, art, and more. She captures the essence of interior design by attuning us to our own sense of beauty, giving us the confidence to create the home of our dreams.

Alexandra Stoddard's decorating clients range from notable individuals to young people starting out. She's designed the interiors of mansions and embassies as well as cottages and one-room studios.
Hardcover
---