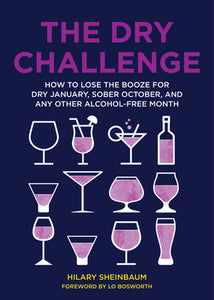 The Dry Challenge: How to Lose the Booze for Dry January, Sober October, and Any Other Alcohol-Free Month (Used Book) - Hilary Sheinbaum
For many people, the holidays bring too much fun, too much food, and too much booze. January can be the perfect time to embrace the new you—and it all starts with taking a break from the bottle . . . but this challenge isn't limited to the month of January. 

The Dry Challenge is ideal for anyone who wants to complete a dry month challenge, giving up all forms of alcohol—wine, beer, spirits and cocktails, including no shots, no low ABV cocktails, and absolutely no champagne toasts—for thirty-one days. 

Whether you're thinking of participating in Dry January, Sober October, or want to choose a time of your own, this book walks you step-by-step through one drink-free month, from making a plan to sharing the news with friends and family (and what to do when someone tries to sabotage it) to getting back on track if you slip up and have a drink (or two).
With interactive activities from prompts to checklists to recipes, The Dry Challenge is the ultimate guide to stay booze free for one month. Cheers to a whole new you! 
Hardcover
0720LO
---