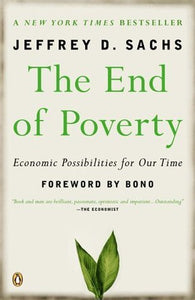 The End of Poverty (Used Book) - Jeffrey D. Sachs
The End of Poverty distills more than thirty years of experience to offer a uniquely informed vision of the steps that can transform impoverished countries into prosperous ones. Marrying vivid storytelling with rigorous analysis, Sachs lays out a clear conceptual map of the world economy. Explaining his own work in Bolivia, Russia, India, China, and Africa, he offers an integrated set of solutions to the interwoven economic, political, environmental, and social problems that challenge the world's poorest countries.
 
Ten years after its initial publication, The End of Poverty remains an indispensable and influential work. In this 10th anniversary edition, Sachs presents an extensive new foreword assessing the progress of the past decade, the work that remains to be done, and how each of us can help. He also looks ahead across the next fifteen years to 2030, the United Nations' target date for ending extreme poverty, offering new insights and recommendations.
Paperback
---