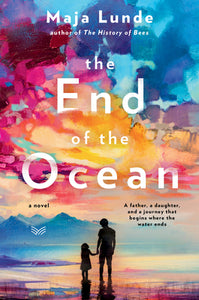 The End of the Ocean (Used Paperback) - Maja Lunde
From the author of the number-one international bestseller The History of Bees, a captivating story of the power of nature and the human spirit that explores the threat of a devastating worldwide drought, witnessed through the lives of a father, a daughter, and a woman who will risk her life to save the future.

In 2019, seventy-year-old Signe sets sail alone on a hazardous voyage across the ocean in a sailboat. On board, a cargo that can change lives. Signe is haunted by memories of the love of her life, whom she'll meet again soon.

In 2041, David and his young daughter, Lou, flee from a drought-stricken Southern Europe that has been ravaged by thirst and war. Separated from the rest of their family and desperate to find them, they discover an ancient sailboat in a dried-out garden, miles away from the nearest shore. Signe's sailboat.

As David and Lou discover Signe's personal effects, her long ago journey becomes inexorably linked to their own.

An evocative tale of the search for love and connection, The End of the Ocean is a profoundly moving father daughter story of survival and a clarion call for climate action.
0815ML
---