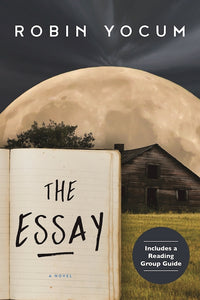 The Essay: A Novel (used book) - Robin Yocum
Great Crossover with YA Market
Jimmy Lee Hickam grew up deep in the bowels of Appalachian Ohio, on the poorest road in the poorest county in the poorest region of the state. To make things worse, the name Hickam is synonymous with trouble. Jimmy Lee hails from a mix of thieves, moonshiners, and drunkards who for decades have clung to both the hardscrabble hills and the iron bars of every jail cell in the region. This life, Jimmy Lee believes, is his destiny: working with his drunkard father at the sawmill, or sitting next to his arsonist brother in the penitentiary.
If not for an inspiring coach and Jimmy Lee's ability to play football, he would not have returned for his junior year in high school. When his visionary English teacher cuts Jimmy Lee a break, preserving his eligibility for the coming football season, he rewards her with a winning essay in the high school writing contest.
When irate parents and administration claim he has cheated, his teacher takes Jimmy Lee's writing talent as far as it can go, showing him the path out of the hills of Appalachia.
Terrific characterizations, surprising revelations, gut-wrenching past betrayals, and an unforgettable cast of characters borne of the dusty worn-out landscape of Southeastern Ohio, make The Essay a powerful, evocative, and incredibly moving novel.

Skyhorse Publishing, as well as our Arcade, Yucca, and Good Books imprints, are proud to publish a broad range of books for readers interested in fiction—novels, novellas, political and medical thrillers, comedy, satire, historical fiction, romance, erotic and love stories, mystery, classic literature, folklore and mythology, literary classics including Shakespeare, Dumas, Wilde, Cather, and much more. While not every title we publish becomes a

 

New York Times

 

bestseller or a national bestseller, we are committed to books on subjects that are sometimes overlooked and to authors whose work might not otherwise find a home.

paperback
0228CR
---